Shabbatots
A monthly Friday afternoon Shabbat babies and tots service and play at a member's home.  A relaxed and friendly space where your child can experience Shabbat with Rabbi Robyn and JR families.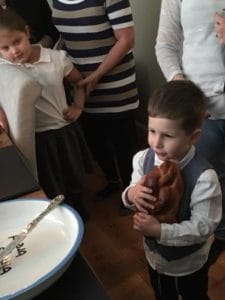 Shabbat Den
A family service, separate to the main service, which occurs every two months.  It will be a fun, interactive service which follows the structure of the main service and is for families to be together on Shabbat and learn together. Will include birthday blessings.
L'dor Va'dor
Every other month we will hold family-friendly services in the main service.  We'll adapt the service so the kids lead part of the service and elements such as the sermon and Torah reading are adapted/taken out for family engagement.  We will hope to establish a kids choir with the help of the main choir.  Will include birthday blessings.
Bar/Bat Mitzvah Classes
Regular classes are organised for all children in the two years leading up to their Bar/Bat Mitzvah.
NSY-Netzer events in the North 
For information on the regular events in the North for children click here.