All festivals are currently celebrated online.
FIRST NIGHT CHANUKAH AT MANCHESTER REFORM SYNAGOGUE (DEC 10, 6.30PM)
with Rabbi Silverman. Please join us as we light our 1st night Chanukah candle together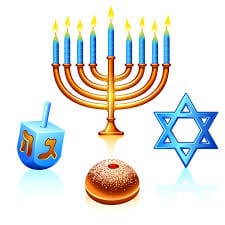 We will explore our personal miracles that have helped us to get through lockdown as we sing, eat latkes & doughnuts and have a chance to chat in breakout rooms.
FOR MORE INFORMATION AND ZOOM LOGIN – CONTACT MANDY IN THE OFFICE
Interested in Chanukah cuisine?
Why not check our the suggestions on our Food for Thought – Chanukah webpage – click here.