160 years of Progressive Judaism in the Heart of Manchester
We pride ourselves in being steeped in the tradition of Reform Judaism, being one of the oldest Reform Synagogues in the United Kingdom, but with a vibrant community that moves with the times. Our focus is on Progressive, Living Judaism. Our Rabbis are the most forward thinkers and educators, able to engage with people of all ages. We have a passionate and vibrant Executive and Council, which prioritises Jewish Education, Family and Seniors Events, fully experiencing and celebrating Shabbat, Jewish Festivals and Personal life events. For details of activities for children and families click here.
Rabbi Reuven Silverman & Rabbi Robyn Ashworth-Steen
Update on Synagogue Development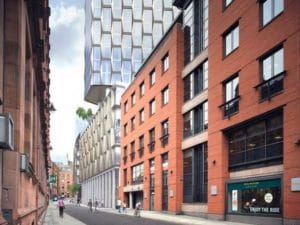 United legend now turned entrepreneur, Gary Neville, and his team of architects provided an update on the St Michael's Manchester Development to Shul members at the year's AGM.  It is now likely that we will be vacating the premises for our temporary home at the neighbouring Friends Meeting House around December this year.
Gary Neville thanked everyone for their understanding over the 13 years he had been involved. He explained to members why it had taken so long from the effects of the financial crisis of 2007–2008, the unexpected additional opportunity provided by GMP vacating Bootle Street Police Station and the unprecedented objection from Historic England.
He expected building to start in the first quarter of next year.  He explained that the development will include offices, "the best apartments Manchester has ever seen", a retail area and a five-star hotel.
Anthony Kilbride, the MD of Relentless Developments, said that construction will begin at the bottom left corner of the St Michael's site and work upwards and added that "we have made it very clear to to the builders that the priority is to get you back into the synagogue as quickly as possible".  He reassured members that the security standards set by the synagogue trustees was very high.
Gary Neville said he is planning to issue a timetable shortly and emphasised that his agreement with JR is that the new synagogue has to be finished first.  JR President, Danny Savage, told the meeting that although the date is further away than we originally wanted, he was anticipating a return within two and a half years.
Danny Savage explained that while it is still difficult to provide any exact dates, once known there would definitely be a memorable occasion to mark our leaving home.
May 2019
Latest News
Manchester Pride Festival takes place over four days in Manchester city centre over the August Bank Holiday (23 – 26 August).  Prepare now for the Pride Parade by banner making with Katie
Read More...