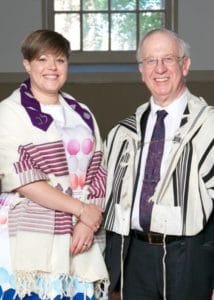 160 year of Reform Judaism in the Heart of Manchester
A warm welcome to Manchester Reform Synagogue, a member of the Movement for Reform Judaism. The synagogue is easy to find as it is near the town hall, right in the centre of Manchester.
We pride ourselves in being steeped in the tradition of Reform Judaism, being one of the oldest Reform Synagogues in the United Kingdom, but with a vibrant community that moves with the times.
Our focus is on Living Judaism. Our Rabbis are the most forward thinkers and educators, able to engage with people of all ages. We have a passionate and vibrant Executive and Council, which prioritises Jewish Education, Family and Seniors Events, fully experiencing and celebrating Shabbat, Jewish Festivals and Personal life events.

Recent News
Our Synagogue is working closely with Manchester's two universities on an exciting virtual reality project that aims to keep the Jackson's Row building and invaluable memories alive for generations to come. The
Read More...