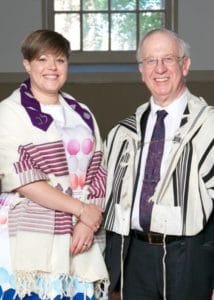 High Holiday Messages from our Rabbis
(Rosh Hashanah message click here; Yom Kippur message click here)
We are awaiting a judgement. Our High Holydays are a time for assessing how far we have attained our personal best over the past year. Moreover, the days from Rosh Hashanah to Yom Kippur are for seeing ourselves against the background of how our world is moving, for better for worse.
Our landscape is also shifting, something we are keenly aware of as we await news about the current application for a judicial review on our synagogue redevelopment. That is a judgement of a different kind that hangs in the balance.
All of these concerns create within us a state of suspension as we think about what has happened to us and what we could be.
We look forward to sharing all our festivals with you, embracing the present moment with you, enjoying our time together as always before and may 5779 bring us all a sense of fulfilment.
Rabbi Reuven Silverman
Rabbi Robyn Ashworth-Steen
Recent News
Please give generously to our Kol Nidrei Appeal. As well as our usual charities, this year we will support better dementia care in our community & Ethiopian Jews living in Israel. See
Read More...