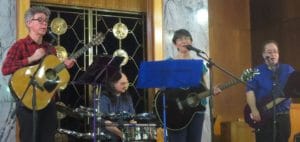 Shir Chadash is a tefillah (prayer) band that provides a lively musical services intermittently throughout the year. Shir Chadash services are upbeat and uplifting! We have a repertoire which ranges from traditional tunes to brand new compositions. Plus Shir Chadash Friday nights always include a chavurah supper (where everyone brings a vegetarian contribution). To find out more check out our Shir Chadash website, which also has tracks from our CD, or check out our Shir Chadash facebook page
Saturday March 14th – a very special Shir Chadash musical afternoon featuring very special guest Judith Silver, who will be teaching some of her songs and tunes. All welcome, there will be refreshments and Havdalah. 2.30 pm, hosted by David Hoffman. (further details from the office).
If you would like to know more or are interested in taking part as a singer or musician, please contact shul@shirchadash.org.uk.